Low-income Communities, People with Disabilities, People with Health-based Concerns
Grocery Shop for Homebound Seniors in Hollywood or Beaverton (all ages) Referral
Store to Door is a local nonprofit that supports independent living for Portland area seniors and people with disabilities by providing an affordable, personal, volunteer-based grocery shopping and delivery service.

---
Please read all of the following information carefully.

You cannot register through the Hands On website. To sign up for an upcoming Store to Door grocery shop project, visit http://www.storetodooroforegon.volunteerhub.com (New login will be required).
---


Do you like to grocery shop? Would you enjoy helping seniors and people with disabilities maintain their independence? Join us to grocery shop for those who are homebound. Think of it as a fun in-store scavenger hunt for a great cause!

What: Volunteer grocery shoppers receive a client's grocery list and walk around the store finding each item. At times, the volunteer will need to call a client to ask clarifying questions about missing items or substitutions. Volunteer shoppers are not responsible for purchasing or delivering groceries, just shopping and having fun!

Where/When:
Hollywood Fred Meyer (3030 NE Weidler St, Portland, OR 97232)
Every Wednesday and Thursday, 8:30-10:30 am

AND

Beaverton Town Square Fred Meyer (11425 SW Beaverton Hillsdale Hwy, Beaverton, OR 97005)
Every Wednesday and Thursday, 8:00 am – 10:00 am

Parking: Located in the Fred Meyer parking lot
If you are interested in bringing a group of volunteers, please contact Kelsey at 503-200-3333 ext. 108 or email Kelsey@StoretoDoorofOregon.org.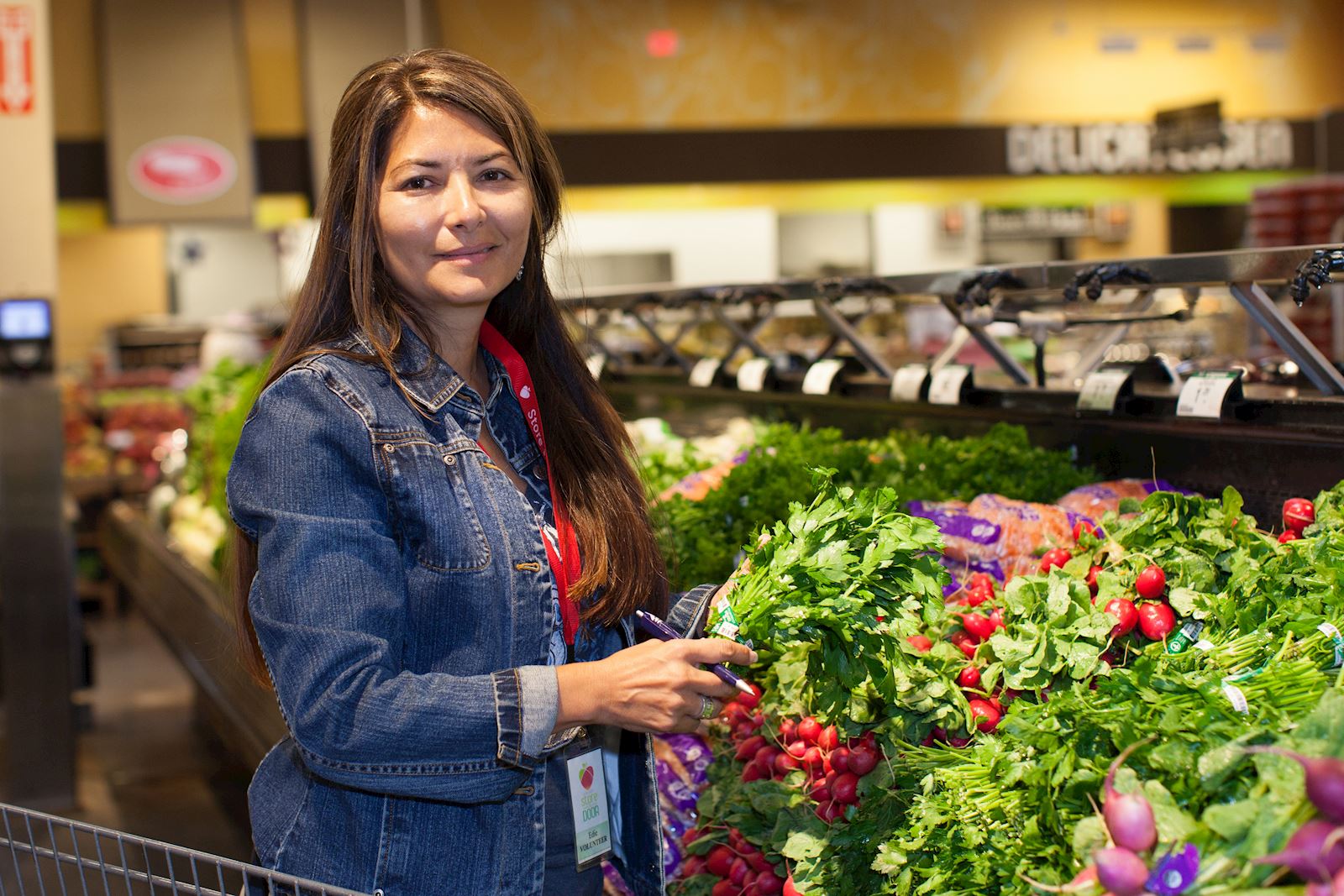 Here's what clients have to say:

"They are the 'Grocery Angels'..."

"Your help is priceless!"
Ready to make a real difference? Sign up below to lend a hand!
Watch this video to learn more about our work:



COVID-19 Information:

The novel coronavirus ("COVID-19") is a contagious and potentially life-threatening disease. Reducing the spread of COVID-19 in our community is a shared responsibility. In an effort to reduce the spread of COVID-19 at Hands On volunteer activities, all volunteers are required to:
Follow all COVID safety-rules at their volunteer site or project
Wash their hands, at a minimum, before and after their volunteering
Maintain physical distancing while volunteering, to the extent practicable
Wear a cloth or disposable face covering at all times while volunteering.
Hands On appreciates your interest in volunteering to help our community in this time of extraordinary need. As part of some volunteer activities, you may risk exposure to COVID-19. If you or any member of your household is experiencing any symptom of COVID-19, or has exhibited any symptom in the past 14 days, please do not sign up for a volunteer activity at this time. Please contact the Opportunity Coordinator if you have any questions about Hands On's COVID-19 safety rules and the expectations for volunteers.

Project Requirements:
Volunteers of all ages are welcome to attend this project; volunteers age 16 or younger must attend with a parent or adult chaperone.

All volunteers under 18 are required to bring a Youth Volunteer Release Form signed by their parent or legal guardian. Please download, complete, and bring this waiver with you on the day of the project.
To sign up, please visit http://www.storetodooroforegon.volunteerhub.com (New logins will be required for the Store to Door Volunteer Site).
Need help signing up? Call 503-200-3333 ext. 108.

Keywords: family, families, children, kids, toddlers, parent, parents, group, groups, corporate, company, employees, exercise, friends, school, church, club
Please wait...
Log in or Register
In order to register for this opportunity you must log in to an existing account or register to create a new account.
Signup with team
This link allows you to participate in this opportunity with a team. When you click on the link you will have the option to:
Choose an existing team you're already a member or captain of, or
Create a new team to sign up.
Signup Questions
Please respond to the following questions in order to signup for this opportunity:
Please wait...
E-mail