---
Volunteer With Your Kids!
Family Volunteering with Hands On Greater Portland
Doing good shouldn't just be for grown ups. At Hands On we believe that everyone can make a difference in our community through volunteering.
How to sign up for projects:
Looking for projects open to the whole family? No problem. Click here to view instructions on creating and managing a volunteer team for your family.

Once you've created your family volunteer team, head to the Monthly Project Calendar, expand the "Basic Search and Search Options" bar, choose "Children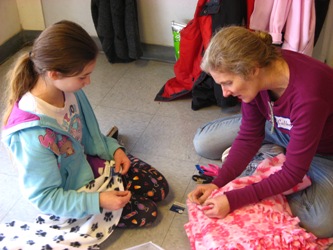 (under 13)" under "Age of Volunteer," and click "Search" to see only the projects open to that age group. From there, you can look at the project titles for specific age requirements (e.g. age 8+, age 12+). Note that for each project, the age in the minimum age reflected in the title may require adult accompaniment.

Click here to download our Youth Volunteer Waiver form, which you'll need to bring for each child when you volunteer together on a *Hands On* Managed project.

6 Easy Ways to Volunteer with Kids
1. Conduct a canned food drive. Walk around your neighborhood knocking on doors collecting canned food. Then take the food to your local food bank or food collection site. A few of options: Oregon Food Bank or Sunshine Division.
2. Feed the Homeless. Make sandwiches and bag lunches of nutritious food. Then offer them to homeless people you meet around town. A guaranteed heart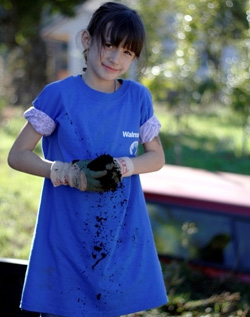 warmer for all!
3. Collect Supplies: Spend a few hours collecting and distributing items needed for shelters that serve people experiencing houselessness. A couple organizations in need of supplies include: Join, Good Neighbor Center & Transition Projects. Check their websites to find out what is needed now.
4. Meal Delivery: Teach your children the importance of helping those in need by bringing them along to drop off meals or food baskets to people who cannot easily leave their homes. Volunteer with Meals on Wheels or Store to Door.
5. Gardening/Tree Planting: Planting, weeding, and helping maintain school, community and public gardens around the city are great ways to get the family working together outside! Check out Zenger Farm or Portland Parks and Recreation.
6. Kids' Book Drive: Collect used children's books at your school or church or neighborhood to donate to kids in the Greater Portland area who do not have access to books. An organization that distributes books to Head Start programs in the area is The Children's Book Bank.