---
Get Involved, Teens!
Now is the time to get yourself and your school club, youth group and friends involved in volunteering. Get muddy in a community garden, create cards for local seniors, plant a tree in your neighborhood, stock the pantry at your local food bank and make a difference!
Options for volunteering for Teens:
Click here to download our Youth Volunteer Waiver form.

Hot Spots to Volunteer
Fast with Computers? Organizations are often looking for help with their websites and would love your expertise! Consider volunteering at Free Geek and surround yourself with miscellaneous computer parts.

Sketchbook Skills? Every organization has fundraisers or events to support the work they do. Your artistic skills would be greatly appreciated in designing invitations or perhaps decorating a space before an event. Also, consider teaching an art class at a Cedar Sinai Park, a senior center, or the community center at Friendly House.

Music as Service? Radio stations, like KBOO, love their volunteers. Even if you are just helping in the office, you will get a great behind the scenes experience of how a radio station runs.
Need School Credit for Volunteering?
If you need verification for school credit for service hours follow these steps: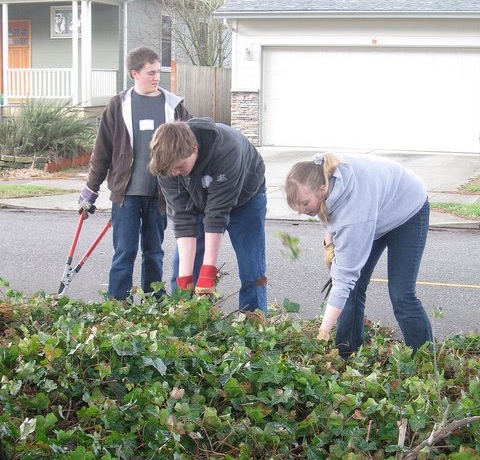 1. Keep a list of the hours you've worked.
2. If you're required to complete a form, bring it with you to every project.
3. Ask agencies how to verify your hours. They will be responsible for signing off on hours and creating verification letters, if needed.
**Please note, Hands On cannot verify volunteer hours. You will need to have the agency hosting the project sign off on your required service hour forms.**
Questions? Please email handson@unitedway-pdx.org.

Easy Ways to Volunteer on your own or with friends
1. Conduct a canned food drive. Walk around your neighborhood knocking on doors collecting canned food. Then take the food to your local food bank or food collection site. A few options: Oregon Food Bank or Sunshine Division.
2. Feed the Homeless. Make sandwiches and bag lunches of nutritious food. Then hand out to homeless people you see around town. A guaranteed heart warmer for all!
3. Collect Supplies. Spend a few hours collecting and distributing items needed for homeless shelters. A few organizations in need of supplies include: Goose Hollow Family Shelter, Good Neighbor Center, & Transition Projects. Check their websites to find out what is needed now.
4. Meal Delivery. Helping those in need by bringing them along to drop off meals or food baskets to people who cannot easily leave their homes. Volunteer with Meals on Wheels People or Store to Door.
5. Gardening/Tree Planting. Planting, weeding, and helping maintain school, community and public gardens around the city are great ways to get the family working together outside! Check out Zenger Farm or Portland Parks and Recreation.
6. Kids' Book Drive. Collect books at your school or church to donate to children who do not have access to books. An organization that distributes books to Head Start programs in the area is The Children's Book Bank.